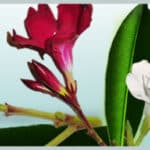 What creates beautiful skin?  Is it genes, great care, education or passion?  It's a unique blend of all of those essentials.  My passion for skin-care began when I was 16 and has continued through my life. I'm thankful to my Italian parents for the genes, for my own discipline, and the education from medical doctors and estheticians in guiding me on my quest for beautiful skin. When friends would compliment me on my skin, I'd joke and say it is 'mortal sin' to go to bed without cleansing and nourishing your skin.
Today I'm sharing a new product, Nerium, which I found recently and encourage you to look into the science and results people have experienced. A friend introduced me to Nerium about a month ago because her mother had dramatic improvement with psoriasis. For me, timing is everything and my instincts also guided me to start the product, and I'm thrilled with the results.  To see the before and after photos, and learn more, click to the website.
The active ingredient is an extract of Nerium Oleander ( typically known as just Oleander the poisonous plant), which has been shown to reduce cancer tumors internally at measured doses.  The scientists at the world-famous MD Anderson cancer center in Texas have been studying it for over 10 years, and they developed a topical cream for skin cancer.  The test subjects had such amazing results with their skin, with everything from fine lines, wrinkles, acne, rosacea, scarring, stretch marks, dark spots, hyper-pigmentation, as well as it having anti-cancer properties.